So...i thought i would start to write on here as i wish to whilst im at uni to keep the rents updated with my work and life lol!
....
I have very little time of my FMP left now and the thought that its getting massively closer is making me feel sick...i have so much to do:
Create a box with all of my contextual information in
-Create a hard copy of my contextual work as well as an alternative copy to go into the box
-How shall i create the box?Pom Poms?Knitting?create paper?
Continue with designs...create at least one A1 sheet full of designs for the final garment. Ideas for designs using scraps:
-a corset that is joined at the seams wityh zips...layers of clothing
- To get the highest grade i need top think about how the garment can change...removeable parts etc...could the skirt be removed?
-Knitted Skirt...use the riboon...print on it first ans then knit, with size 15/20mm needles...experiment
- Create a corset out of joining the ribbon together
~experiment with new techniquies...aqua bond, bondaweb, iron on fabric or simply spray glue
LOOK AT ASSESSMENT CRITERIA
I aim to complete all this by monday as then i only have 2 weeks to finish my final garnment!
I also discovered yesterday that shining a light through knitwear designs creates a awesome looks and atmosphere...i shall experiment with this further and then decide whether to incorporate this idea in my final show!
To brighten up this boring blog, here are a few images of this project....
Gosh the photographs are taking simply ages to come up!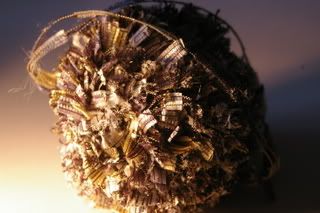 A pom pom...i know the whole pom pom thing is a little random and slightly childish but i wante d to create a sphere out of wool and this obviously made tons of sence!
ballls...i have to go from work so the picture versiousion of my project shall be uploaded another day:)
x